Williamson Trip
---
On August 15 and August 16 an intrepid band of travelers set out for Williamson rock to do a bit of climbing and camping. Little did they know the adventures they would encounter along the way. Fortunately they were equipped with a National Forest Adventure Pass.
We join our travelers, Dave Cowan, Beth and Steve and Shelby Espinoza, Bill and LeAnne Peckham, and Todd Whalen at the big sale at REI because you can't go climbing without dumping a bunch of money on gear first!
After getting the gear purchase out of the way, we moved on to the next most important item on the agenda: bagels and coffee.
With bagels and coffee you'd think everything would be looking up. However, Beth and Steve's dog, Shelby, was having some eye trouble, so we stopped at a vet on the way out of town. Fortunately the dog only had a bit of conjunctivitis (pink eye), and, with the help of Modern Western Medicine, Shelby's eye cleared up for the rest of the trip.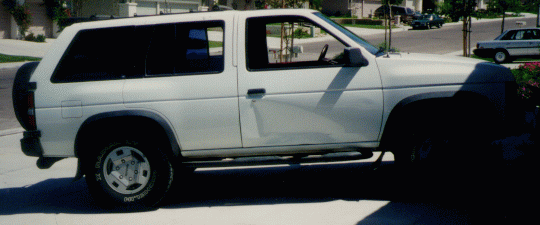 Unfortunately, while we were in the parking lot a Pontiac Grand Am backed into Bill's Pathfinder making a pretty good dent in the passenger door. Dave got a small coffee bath on impact. Ouch! With Shelby's eye problem, this trip already had two strikes against it.
---