San Francisco to San Diego Bike Tour
---
[ Bruce's trip report | The original route plan ]
---
| | |
| --- | --- |
| Day 1 | 5 June 1999 |
| Day Distance | 46.22 miles |
| Trip Distance | 46.22 miles |
| Total Time | 6:20 (1:00pm to 7:20pm) |
| Riding Time | 4:06:27 (h:mm:ss) |
| Average Speed | 11.2 mph |
| Maximum Speed | 35.6 mph |
| Wrong Turns | 1 |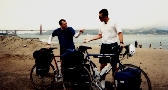 Bill and Bruce with the Golden Gate Bridge in the Background

5 June 1999 Well, it's 10:00pm on 5 June 1999. I'm at Half Moon Bay (or HMB as I've seen on little bumper stickers). A lot has happened in the last 24 hours, fortunately none of it bad. Bruce and I checked our bags and bikes at the airport without incident. The agent behind the counter told us our flight would be five minutes late. It finally took off at 10:00pm, over an hour late. While we were waiting, the airport terminal lost power. We seemed to be off to a bad start, but things would get better.

Anyway, we finally landed at SFO around midnight. Scott Nisbet (one of Bruce's friends from UCSD) picked us up at the airport in a BMW. We packed two bikes into the trunk, two big duffel bags into the back seat with me. Amazingly it all fit! We finally went to sleep around 1:00am. I woke up around 9:00am. Kathy Nisbet made some yummy blueberry waffles for us. We played with Michelle (aged four) and Kyle (aged three, but claims he's six) for a while. Scott was taking the kids to visit some relatives in Berkeley. Anyway, Scott drove us to the Presidio in the BMW, but this time we also crammed in two car seats with kids--and it still all fit! Amazing!

Bill and Bruce near Vandenberg Air Force Base

Bruce Riding South on California Highway 1

At the Presidio, Bruce and I assembled our bikes and got on the road at about 1:00pm. A lady asked us where we were going. This is the point where I realized that people open up when they see you with a loaded touring bike. This lady probably wouldn't have talked to me if I wasn't about to ride six hundred miles to San Diego. The trend continued. A young woman on a mountain bike asked us where we were going when we were riding through San Francisco. We stopped at a strip mall for lunch and two separate guys asked us where we were going. A guy at a stop light asked us. Not everyone is nice, however. While riding down to Half Moon Bay, some young women in a car started yelling at me. I couldn't hear what they were yelling, or tell if it was bad or good. They finally passed me and the last words I heard were, "F**k you!" accompanied by the finger. That was the low point of the day. Such a minor incident makes for a pretty good day.

The only mishap occurred when my sleeping bag, secured only by bungee straps, popped of my rack when I hit a bump. Later in the trip, I borrowed a strap from Bruce that prevented any more gear flying incidents.

We ate lunch at a placed called El Azteca Mexicatessin. I had a really good chile verde burrito that stayed with me the whole afternoon. We took a wrong turn at some point, heading inland towards San Bruno. We were able to backtrack about five miles to get back on course. Even though we took a wrong turn, our detour took us down a scenic and fun hill which was probably better than the real "route."

We stopped in Pacifica to buy groceries and fuel for Bruce's camp stove. We had to buy a gallon, but we were only able to carry 33 ounces of it. We found a couple with a camper to take the rest off our hands, which was better than just throwing it away.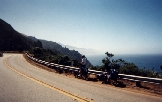 Bruce Poses

Even through the weather was overcast, the scenery was awesome. The tops of the hills were generally in the low clouds, but ocean level was clear. When we got to Half Moon Bay, we overshot our campground by three miles. The second lowest point of the day occurred when we discovered that there were no hot showers! A ranger at the campground presented a slide show and fireside talk about whales found off the California coast. After the talk, we ate and crashed.
| | |
| --- | --- |
| Day 2 | 6 June 1999 |
| Day Distance | 68.44 miles |
| Trip Distance | 114.66 miles |
| Total Time | 7:20 (9:30am to 4:50pm) |
| Riding Time | 4:48:36 (h:mm:ss) |
| Average Speed | 14.2 mph |
| Maximum Speed | 45.3 mph |
| Flats | 1 front, 1 back |
6 June 1999 How can I describe today? Four words: sunshine and tail wind--both good things. I just finished watching the sunset at Sunset State Beach. It was awesome. I was at a lookout earlier and it was quite windy, but the wind died down for the sunset. Today we rode through Santa Cruz and Aptos. We ate lunch in Davenport at Whale City Bar & Grill & Bakery. I'd never been to a B&G&B before. We encountered many AIDS riders on our route today, all very friendly. Although we didn't bump into any mean people today, I did get two flats: first the back tire and then the front, both from glass. Well it's only 9:00pm, but I'm pooped. Good night.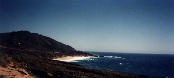 Beautiful Scenery at the Top of Every Hill

Wait! I forgot to mention the wind surfing contest that we watched for a bit. After zipping down a hill on the smoothest pavement I've ever ridden with a huge tail wind, we pulled into a parking lot where a wind surfing contest was underway. Competitive wind surfing must be brutal. One woman we saw was holding an ice pack on her check bone the entire time we were there. Another, who talked to us about riding and wind surfing, looked like she'd had a front tooth replaced. Yikes! Okay...now it's sleepy time.
| | |
| --- | --- |
| Day 3 | 7 June 1999 |
| Day Distance | 63.88 miles |
| Trip Distance | 178.54 miles |
| Total Time | 8:20 (9:10am to 5:30pm) |
| Riding Time | 5:10:13 (h:mm:ss) |
| Average Speed | 12.3 mph |
| Maximum Speed | 35.9 mph |
7 June 1999 Today started out humorously, although I didn't think so at the time. At about 4:15am a tractor rumbled by our campsite at Sunset State Beach doing I-don't-know-what in the farm field only ten feet from my tent. I forgot to mention that our sleep spot was next to the field.

Even with the early wake up call, we didn't get on the road until about 9:10am. Then we rode with AIDS riders for some time before taking a different route. Bruce wanted to have breakfast at small restaurant on the water named Skipper's in Moss Landing, having eaten there on his previous trip. Unfortunately, the place had caught fire about a year earlier, so it was shut down. We ended up having breakfast about a mile more down the road. I don't remember the name of the place, but the food was delicious: fresh squeezed OJ, whole wheat pancakes, real maple syrup. Mmmmm. You may notice that I mention food quite a few times in this trip report. I was eating all the time.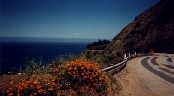 California Poppies South of Big Sur

Not much interesting happened until we left Carmel. After climbing a huge hill into Carmel to get around the Monterey peninsula, the ride became very scenic. We had a tail wind again. Three bridges on the way to Big Sur were receiving earthquake retrofit, so the bridges were reduced to one lane. Traffic wasn't too bad. The traffic control guys would hold up traffic for 15 or 20 minutes. We'd roll to the head of the line, cross the bridge, wait for the column of cars and RVs to pass us. By that time the traffic control guy had stopped traffic again, so we had smooth sailing with no traffic until the next bridge.

We rolled into Pfeiffer Big Sur State Park and set up our camp among the pine trees. After gulping down a meal of black beans and rice, I was ready to crash.
| | |
| --- | --- |
| Day 4 | 8 June 1999 |
| Day Distance | 68.33 miles |
| Trip Distance | 246.87 miles |
| Total Time | 8:00 (9:30am to 5:30pm) |
| Riding Time | 5:12:02 (h:mm:ss) |
| Average Speed | 13.1 mph |
| Maximum Speed | 41.8 mph |
8 June 1999 I can describe today with one word: hills. Up and down and up and down, enough already! Just kidding. The downhill parts were a lot of fun. We were just south of Big Sur, and the traffic still came in spurts from the bridge construction north of us.

Today we saw more great scenery, and we met more nice people. Over the past few days we've met other bicycle tourists. Two men on mountain bikes. An elderly couple back at Moss Landing. "Betty and Barney", a young couple. A family of three (Mom and Dad on a tandem towing a BOB trailer, Junior on his own bike). Tom, who ate lunch with us at Lucia Lodge, turned inland at Nacimiento Rd.

We finally dropped out of the hills south of Ragged Point, and with the tail wind we were able to cruise along at 20 to 30 mph into San Simeon. I could see Hearst Castle from the highway, and at one point, I passed some zebra in a field (from Heart's zoo, according to Bruce). We rolled into San Simeon (a wide spot in the road consisting of about 10 hotels) at about 5:30pm. We decided to stay at Motel 6 tonight: showers, beds, ice for the knees, laundry machines. Woohoo!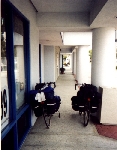 Stopped for Groceries in Port Hueneme
| | |
| --- | --- |
| Day 5 | 9 June 1999 |
| Day Distance | 61.20 miles |
| Trip Distance | 308.07 miles |
| Total Time | 7:30 (8:15am to 3:45pm) |
| Riding Time | 4:47:03 (h:mm:ss) |
| Average Speed | 12.7 mph |
| Maximum Speed | 36.4 mph |
| Glove Spot Diameter | 1.5 inches |
9 June 1999 Today was a short day, but I had a bad allergy attack, so it seemed longer. Since we stayed in a hotel last night, we didn't have to break down our camp, so we left San Simeon early at 8:15am. We had breakfast in Cambria at the Redwood Cafe, I had Steel Cut Oatmeal. It was the best oatmeal I've ever had (not the Dudley's Principle).

At Morro bay, we turned inland towards San Luis Obisbo. This is where my allergies started. When we made it to San Luis Obispo, where we ate bagels at the Bagel Basement, I had a full-on allergy attack. After downing a couple of Allerest and washing my face. We were able to get back on the road.

The road from San Luis Obisbo to Pismo beach was quite pleasant. We rode through rolling hills. We had dinner at Clemenza's (pizza) in Pismo Beach. Again, we rode with the AIDS riders for a good part of the day. Well I've got a couple of allergy pills in me so I'm going to pass out.
| | |
| --- | --- |
| Day 6 | 10 June 1999 |
| Day Distance | 63.88 miles |
| Trip Distance | 390.17 miles |
| Total Time | 8:05 (9:15am to 6:20pm) |
| Riding Time | 6:01:47 (h:mm:ss) |
| Average Speed | 13.6 mph |
| Maximum Speed | 43.9 mph |
| Sunburn Color | Deep Red |
10 June 1999 Today we spent most of the day with the AIDS riders. They stayed in Oceano just down the road from us. We criss-crossed routes with them through the farms just south of Grover Beach and most of the day.

We stopped for breakfast in Guadalupe, were I had the one of the best breakfast burritos I'd ever had. If you ever find yourself in Guadalupe, stop for Mexican food.

After breakfast we rode through more farmland away from Guadalupe. Then we followed the AIDS riders through Vandenberg Air Force Base, where we rode up some huge hills. Fortunately, there was a big downhill on the other side of each big hill.

We make out usual stop for groceries and lunch when we reached Lompoc. The AIDS riders stopped in Lompoc that evening, but we continued on to El Capitan Beach State Park. On the way back to the coast, we merged with US Highway 101. Our map showed a tunnel on the route, but it turned out to be for northbound traffic only. I was bummed.

At the campground, we found the hiker/biker site next to a group campsite occupied by a huge group of noisy kids, but to make up for it, we were also right next to the railroad tracks. I mean, to make up for it, we were right next to the ocean. There were several offshore oil rigs right off the coast, and they looked pretty cool (if unnatural) all lit up after the sun had set.
| | |
| --- | --- |
| Day 7 | 11 June 1999 |
| Day Distance | 83.01 miles |
| Trip Distance | 473.18 miles |
| Total Time | 9:15 (7:45am to 5:00pm) |
| Riding Time | 6:27:48 (h:mm:ss) |
| Average Speed | 12.8 mph |
| Maximum Speed | 30.6 mph |
| Celeb sighting | Patricia Richardson at the In-N-Out in Ventura |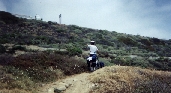 "I think I see some pavement up there," said Bruce.

11 June 1999 Remember I mentioned that our campsite was next to the railroad tracks. Well guess what. Yep: 6:00am wakeup call. Oh well, at least we were on the road by 7:45am.

The AIDS riders stayed in Lompoc last night. We rode 30 more miles to the coast and we started early, but the best riders were catching up to us by 8:30 or so.

Today the terrain was flat and boring, but the food was good. We had breakfast in Goleta at the Cajun Kitchen (although pancakes aren't very Cajun, they were yummy). Santa Barbara was overcast, so it wasn't real scenic. We didn't stay long.

We rode through Summerland and Carpenteria before we reached Ventura. We got a little lost just north of Ventura. After a minor off-road adventure we found our way back to the pavement and lunch at In-N-Out (Mmmm, grease). After lunch we also rode through Oxnard and Port Hueneme, where stopped for groceries again.

Then it was back to the coast. At this point, we were no longer on quiet, scenic California Highway 1. Instead, we were on noisy, busy US Highway 101. The scenery was still nice, but slightly spoiled by the big rigs rumbling by a few feet away.

We camped just inside the Los Angeles county line at Leo Carillo State Park, where they sell beer at the campground store. Cool. At least I thought it was cool until the people in the next campground got drunk and started yelling at each other all night. "GO LIE DOWN! DO YOU WANT TO GET ARRESTED? GO LIE DOWN!"
| | |
| --- | --- |
| Day 8 | 12 June 1999 |
| Day Distance | 31.73 miles |
| Trip Distance | 506.18 miles |
| Total Time | 3:45 (9:15am to 1:00pm) |
| Riding Time | 2:20:20 (h:mm:ss) |
| Average Speed | 13.5 mph |
| Maximum Speed | 33.0 mph |
12 June 1999 Today was a short day. We met Steve and Rick (friends of Bruce) at Leo Carillo State Park at 9:00am and then we rode to Venice Beach where we ate some pizza on the Venice Boardwalk before heading to Bruce's aunt's house.

We needed a good rest day, and that's what we got. We were able to take hot, non-quarter-operated showers and do the laundry. Melanie happened to be visiting some friends in Pasadena. Although I had wanted to do the whole ride with minimal support, Bruce and Melanie managed to convince me that we should jettison our gear and finish the last two days in one day. Without our gear we should be able to skip the stop in Dana Point, and ride all the way from Venice to Pacific Beach.

Bruce had started to come up with this idea the day before. When Melanie met us for dinner, she brought up the idea too. At first I thought of ditching the gear as cheating, but I convinced myself (rationalized to myself) that riding 130 miles in one day made up for the lack of gear.
| | |
| --- | --- |
| Day 9 | 13 June 1999 |
| Day Distance | 134.46 miles |
| Trip Distance | 640.64 miles |
| Total Time | 13:00 (7:00am to 8:00pm) |
| Riding Time | 9:24:29 (h:mm:ss) |
| Average Speed | 14.2 mph |
| Maximum Speed | 37.4 mph |
13 June 1999 We woke up at 6:30am to be on the road by 7:00am. I ate a left over spring roll from Thai food the night before. We stopped at Noah's Bagels (best Sesame Bagel I've ever had) before hitting the road. We rode along a beach bike path through most of LA before turning onto Pacific Coast Highway near Palos Verdes.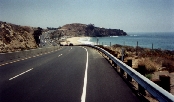 Welcome to Laguna Beach.

PCH was mile after mile of bumpy pavement. Once we got to Orange County, however, the pavement smoothed out. We ate breakfast in Sunset Beach, stopped for a snack in Laguna Beach, and had lunch in San Clemente. At this point, we were on familiar ground so the trip seemed to go more quickly. We cruised through Camp Pendleton, Oceanside, and Carlsbad, and down the coast to Encinitas.

We fueled up on Sugar and grease at VG Bakery. I had three donuts. I think the donuts gave me my fifth wind, and I was able to cruise up Torrey Pines hill and through La Jolla to Bruce's house. See Bruce's trip report for a photo of us at the finish line.
---
What a great trip! We finished one day early. We had no mishaps; only two flat tires. The weather was perfect. The tail wind helped us out quite a bit (two 65+-mile days, one 80+-mile day, and one 130+-mile day). I recommend this trip if you're into this sort of thing.
---
[ Bruce's trip report | The original route plan ]
---
Copyright &copy 1997-2009 Bill Peckham, all rights reserved.