KML Path Distance
---
Google Earth allows a user to create and save a path, but the path tool is missing a crucial feature: it doesn't compute the length of the path.

The program also has a measuring tool that can compute the length of a path, but this path cannot be saved.

Go figure.

Enter KML Path Distance. This program reads a KML file, finds all the paths in the file, and displays the length of each path.
---
Download (17KB)
---
Screenshot: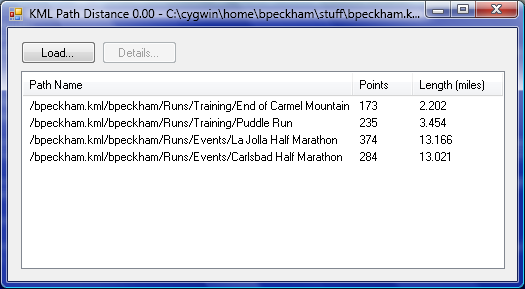 ---
How to use.
In Google Earth

Save your path to a KML file

Right-click on a path or folder.
Select Save Place As.
Change Save as type to Kml (*.kml).
Click Save.

In KML Path Distance

Load the KML file into KML Path Distance.
KML Path Distance displays the paths in the KML files.
---
This program requires .NET Framework.
---